His
Since I'll be training for the Western States 100 in June, I'm bringing a fair amount of running gear. Luckily, it's all small and light. Otherwise, I'm trying to give myself about five days of clothes before repeats and I start to smell. Total weight: 29.8 pounds.
Here's a breakdown, piece by piece:
Osprey Kestler 48 Pack
Big enough to fit everything I need, but small enough to count as a carry-on.
REI Flashpack 18
This is a great no-frills daypack. It rolls up tiny so we can pack it away or use it for a daypack/ beach bag/ plane carry-on.
Lonely Planet Southeast Asia + Lonely Planet New Zealand
Various Tools
Gorilla Tape, carabiner, Leatherman PS Multitool (no knife) and Goal Zero charger. MacGyver-style.
Black Diamond Spot Headlamp
This is a good little headlamp I used to use for night runs and races. It super compact but still throws 130 lumens.
The Entertainment
A copy of Unbroken (gifted by Todd and Brittany), my favorite STUN glasses and a Moscow Mule travel kit (gifted by Alex). All frivolous but important.
Golite Trinity Rain Shell
This is simply one of the best light-weight rain jackets out there. And looking at weather predictions, it'll definitely come in handy. (It's a shame Golite isn't around anymore.)
Plaid Button-Ups
This is mostly for New Zealand, planes, nice-ish social events or any time the temperature dips.
T-shirts
All ultra-comfy, all sans words.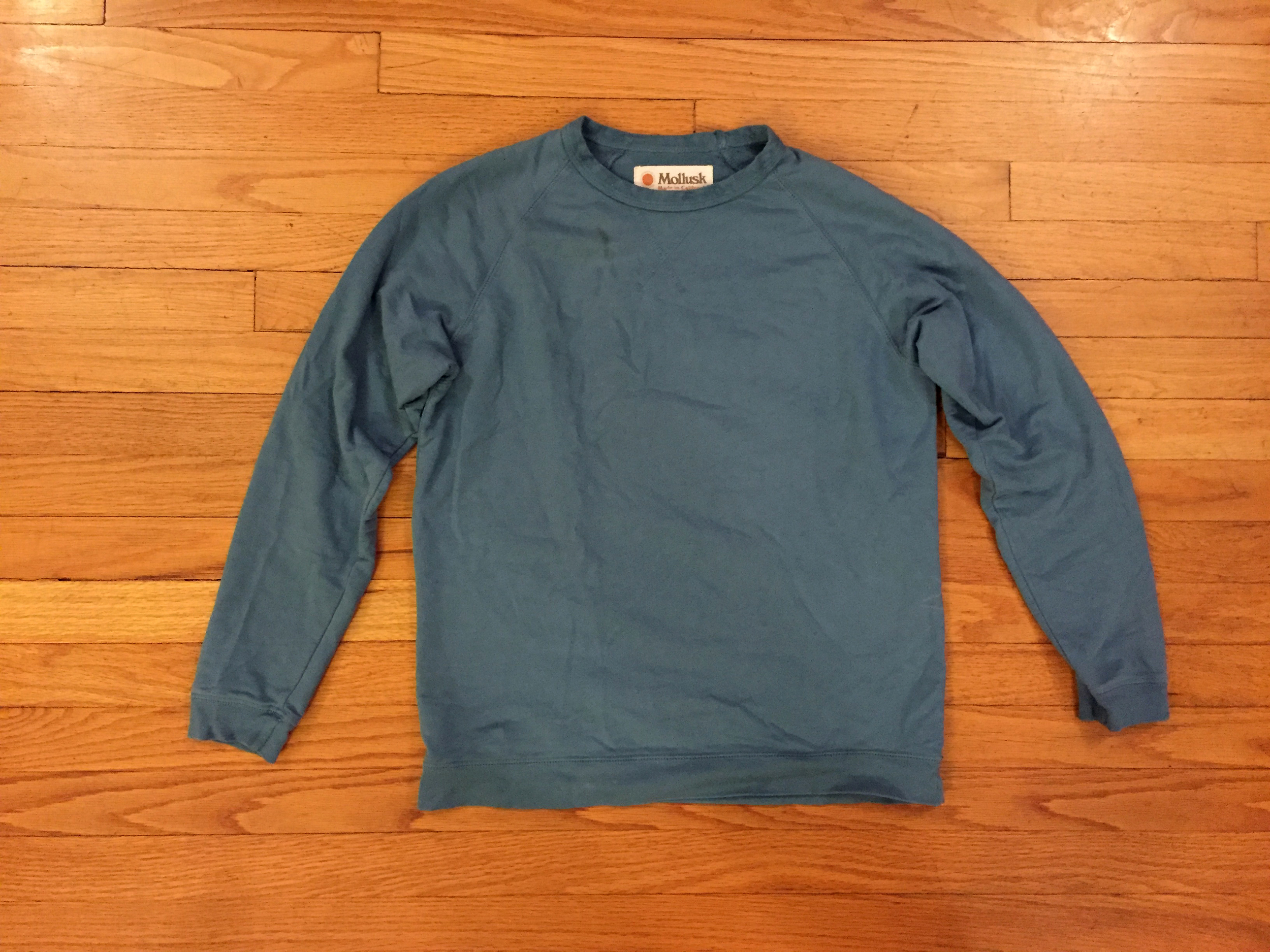 Mollusk Sweatshirt
This is really only for New Zealand where it will definitely be cold sometimes. A little annoying to carry the whole time, but I suppose it'll be worth it.
Shorts
Board shorts, Columbia trail shorts, and of course... jorts. My lower body will be ready for anything.
Kühl Konfindant Air Pants
I swore I wasn't gonna get douchey travel pants, but then I saw these. They're super lightweight and actually look like a pair of jeans. They'll come in handy in New Zealand, and then I'll probably never wear them again.
Balega Hidden Comfort Socks
People have been raving about these. They're intended for running, but I decided to get a few pairs to use as my daily socks. You gotta treat yo feet.
Havaianas Flip Fops
I lived in these things when I traveled through Brazil. They're awesome. And now I have a fresh pair.
New Balance Vazee Summit Trail Shoes
Ultra lightweight and ready for trails. I'm hoping to log some miles in these things, especially in New Zealand.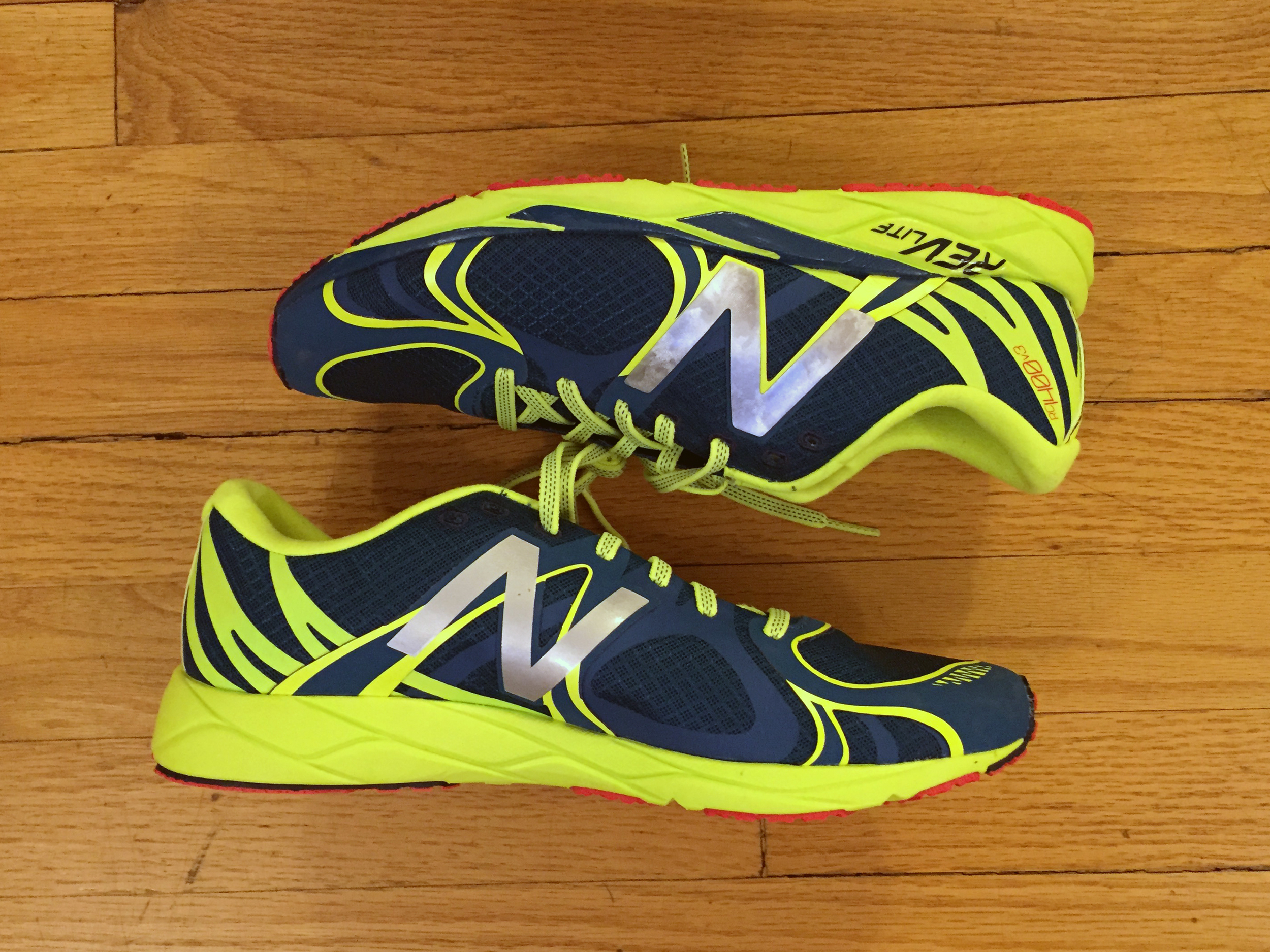 New Balance 1400v3 Road Shoe
A great lightweight road running shoe that will also double as my day-to-day shoe.
Ultimate Direction AK Race Vest
Another super-minimal piece of gear. I've switched out the front bottles for a 70 oz reservoir. This will help me get my long runs in.
New Balance Running Shirts
I'm opting for the most breathable ones. Can't wait for that 100% humidity in Vietnam.
North Face Flight Series Running Shorts
These puppies are great. The only running shorts I wear now.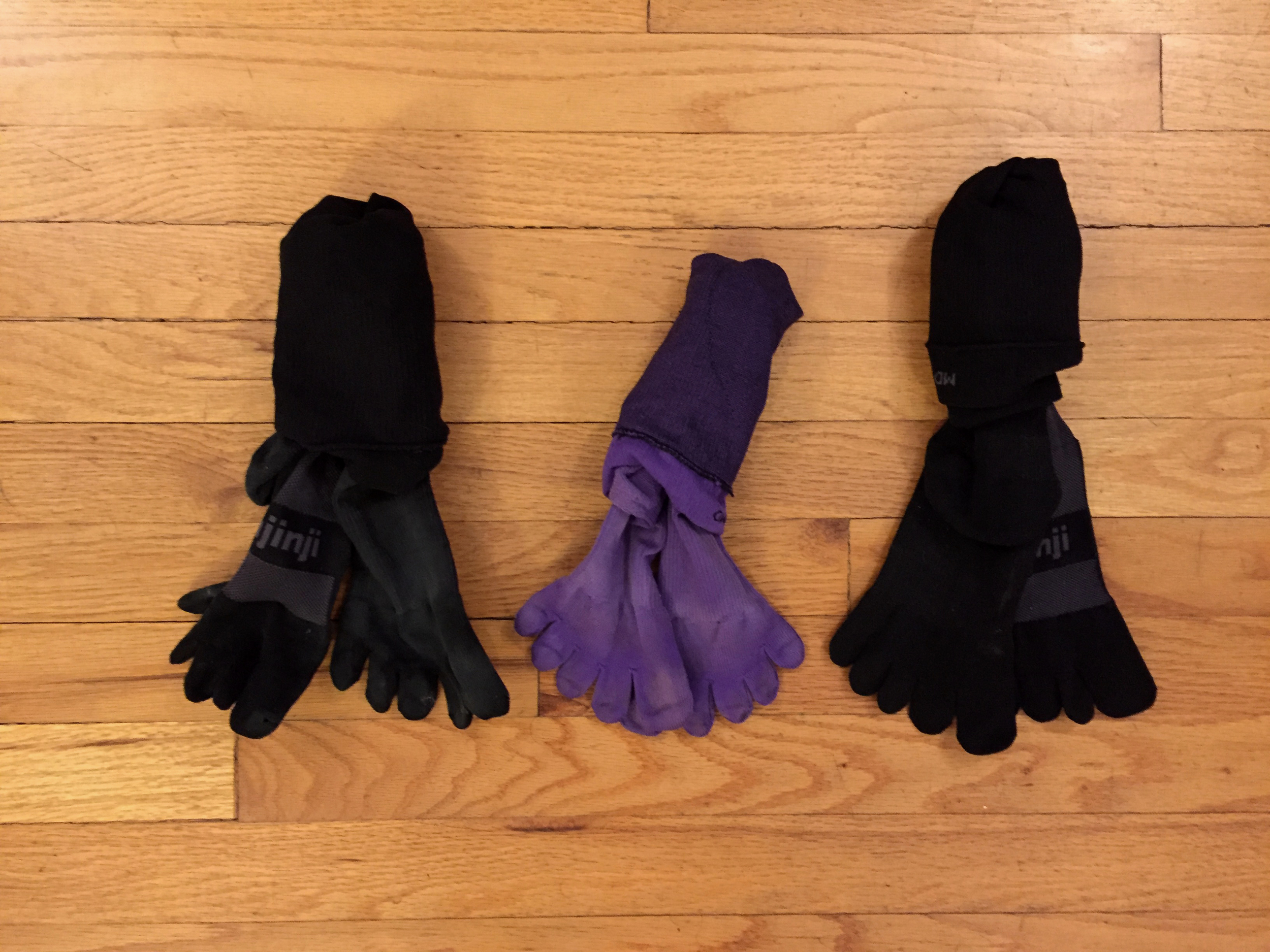 Injinji 2.0 Compression Running Socks
It's a little extra to pack, but these seem to help with my Achilles/ Soleus injury, more so than standard running socks.
Suunto Ambit Peak 3 GPS Watch
For logging my miles. I can also set waypoints for more complicate routes where I can find the course data.
Other Running Comforts
Can't leave home without my PMR hat. I'm also brining my Merrell visor and CW-X sleeves, which can serve multiple purposes.
Bag o' Gels
Big ole bag of gels and chews for long training runs.
Resistance Bands
Liza and I plan to do some cross-training here and there. We can't bring weights, but at least these are minimal enough to throw in my pack.
Vapur Microfilter Water Bottle
It's a collapsible 1-liter water bottle with a built-in filter. We're a little iffy on the filter itself, but if nothing else, it'll be nice to have a bottle that takes up zero space. And if I'm in a dire situation on a run, it could be an actual lifesaver.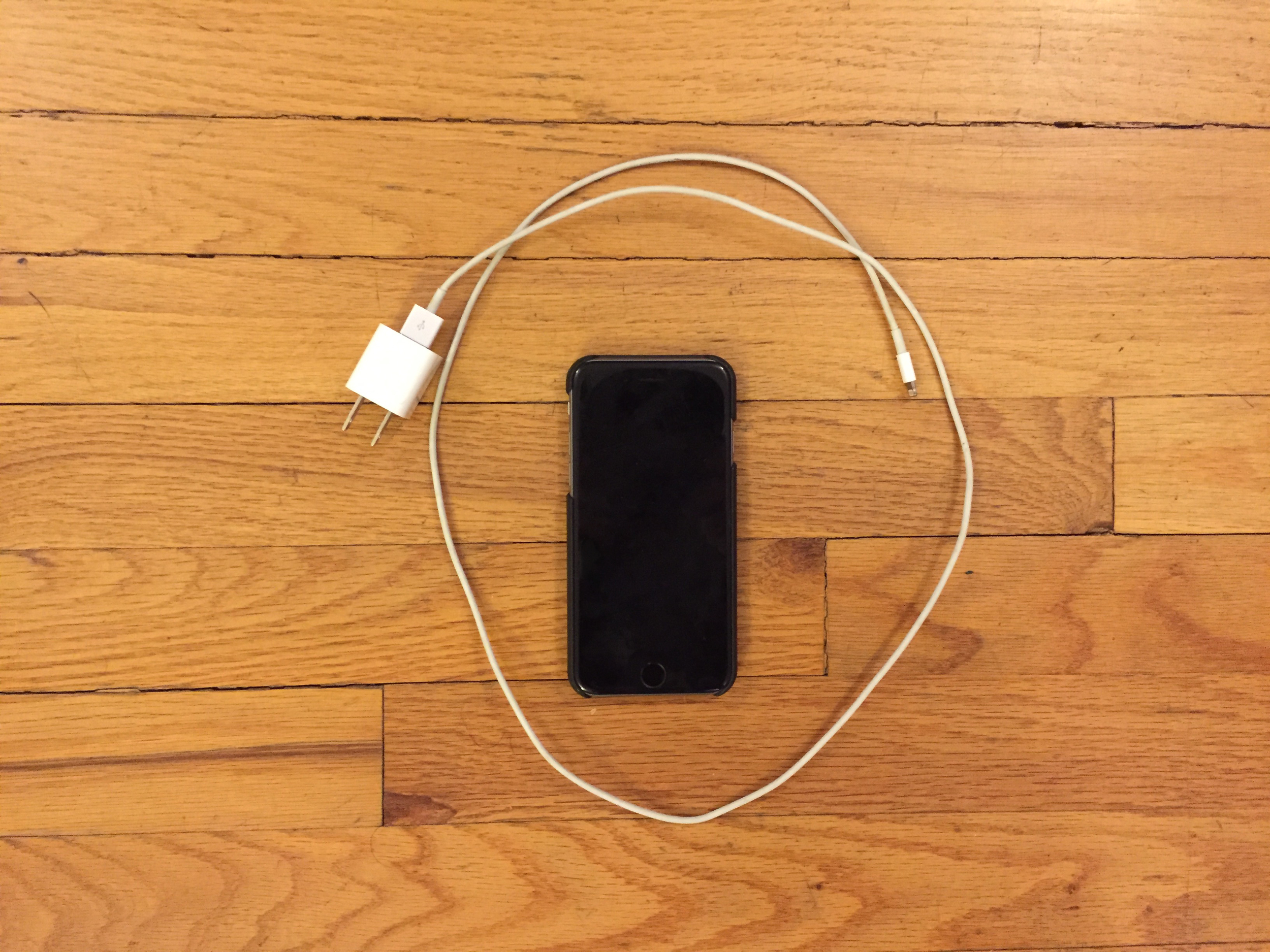 iPhone 6
We're suspending our wireless account so it'll basically be a wifi device and pocket camera.
VicTsing 3-in-1 Clip-On Phone Lenses
There's a fisheye, 12x macro and 24x macro. I'm a little dubious about how well these will work, but at $15, if they don't I'll just pitch them.
55% Silk/45% Cotton Cocoon Travel Sheets
I used this a few times in South America. I'd obviously be better if this were all cotton because it'd be cooler. But the silk blend is far lighter and more compact.
Rick Stevens Microfiber Towel
Another relic I found in my parents' basement from my South America days. Still works and doesn't smell too bad (yet).
REI Money Belt
Ugh. I swore I'd never use one of these. But I think it's worth trying. And if I hate it, I'll just dump it.
Toiletry Bags
Split out by daily usage and occasional usage so I don't have to go rummaging through everything every day.
Various Liquid Things
SPF 30 sunscreen, Dr. Bronner's all-purpose soap/detergent, !00% DEET insect repellent. This way if any of them opens, it'll just goo the other bottles, not my whole pack.
Imodium
Because we're definitely gonna need it.
Outlet Adapters and Surge Protector
We're ready to suck the power dry in any country. Also, I've read a lot about how the electricity is super inconsistent in Southeast Asia so big surges can fry your electronics. As annoying as it is to carry the surge protector, it's probably worth it.
Earbuds and a Cord Taco
Because 3 months of listening to nothing but Liza's stories...
Macbook Air + 8 Gig Flash Drive
This will be our lifeblood as we freelance along the way. Really hoping it will make it through this adventure intact and in our hands.
Moleskine Notebooks + Pilot Precise V7 Pens
What kind of traveler/copywriter would I be without carrying the a set of the world's finest notebooks and writing utensils?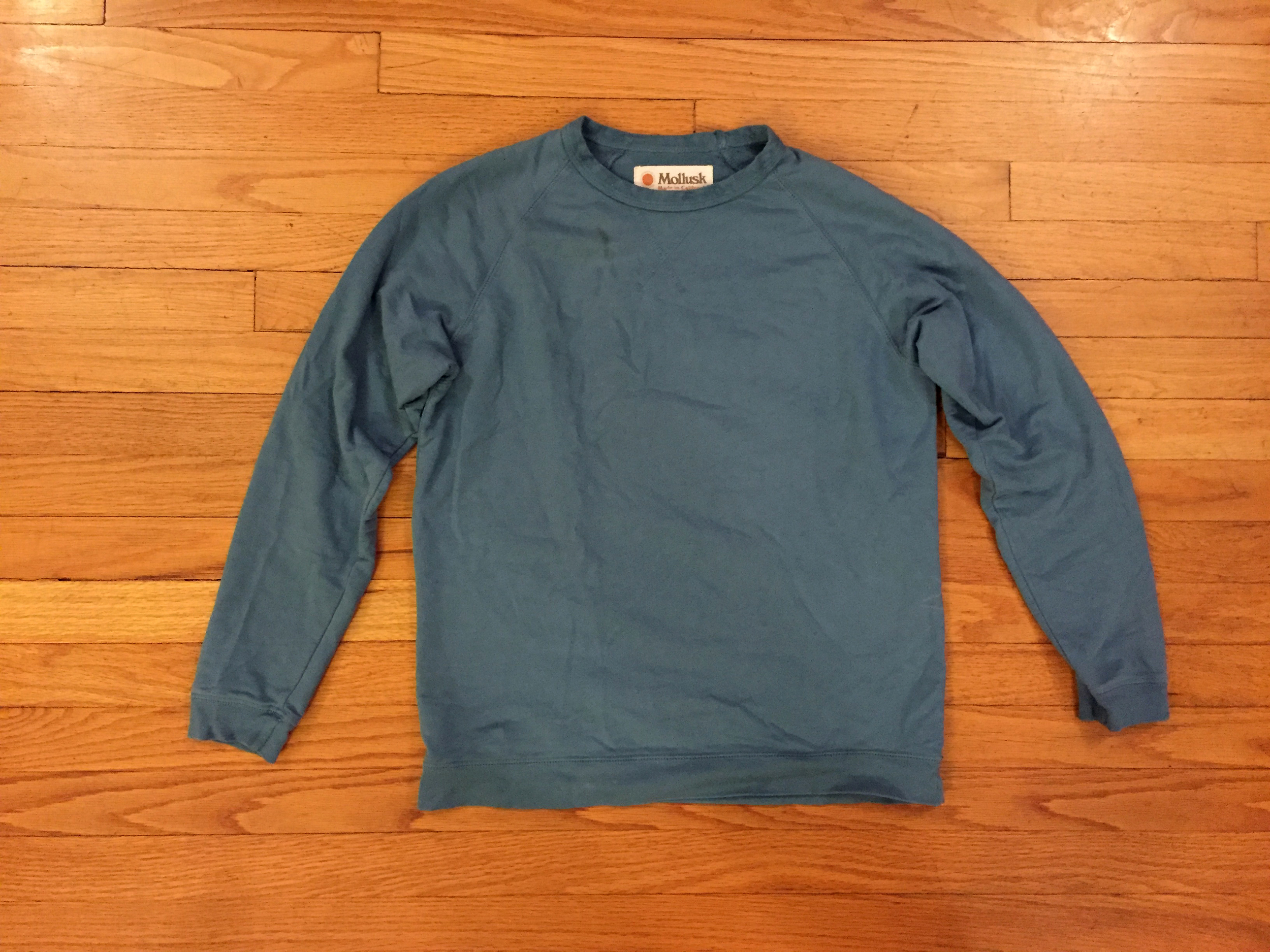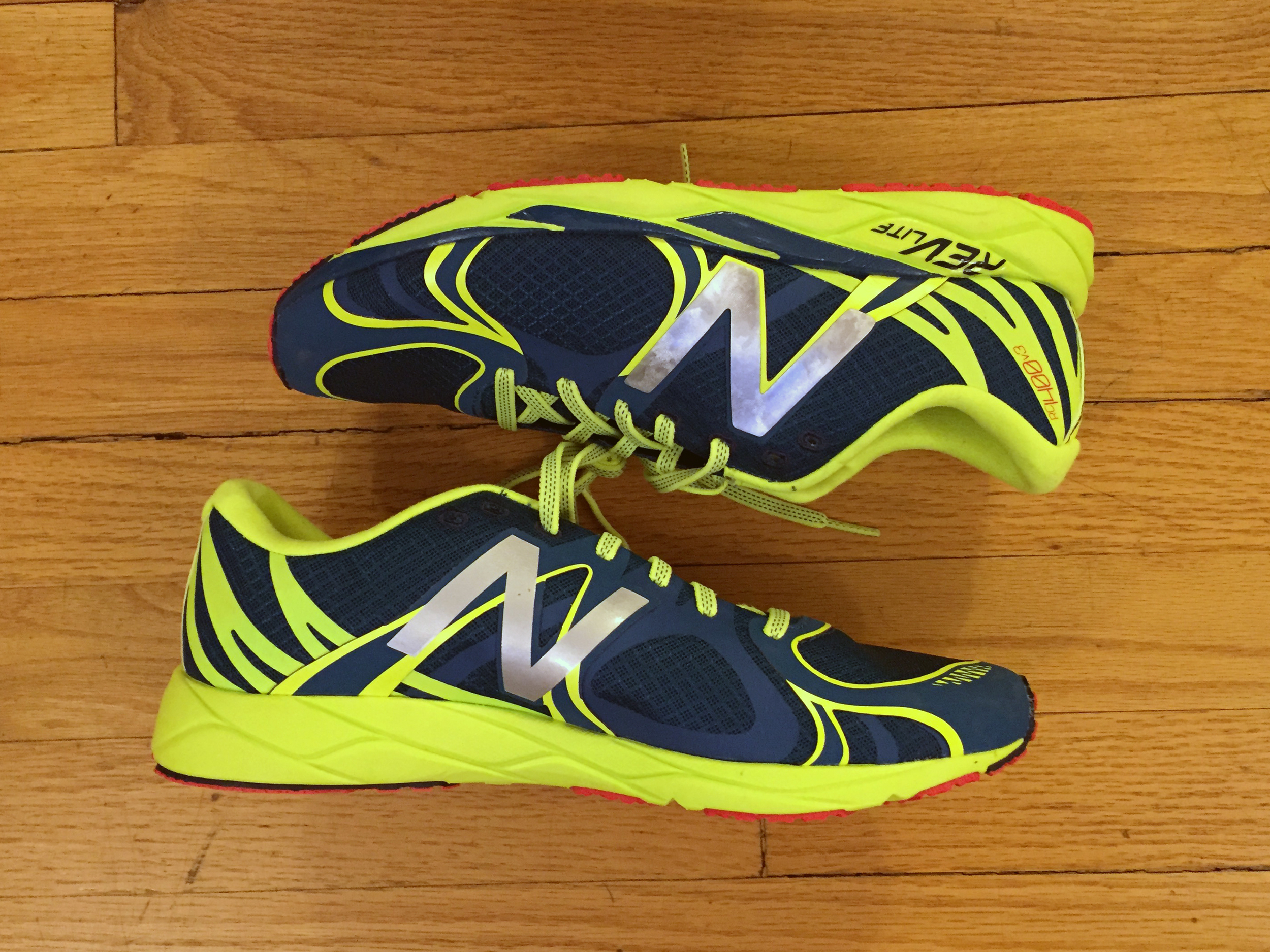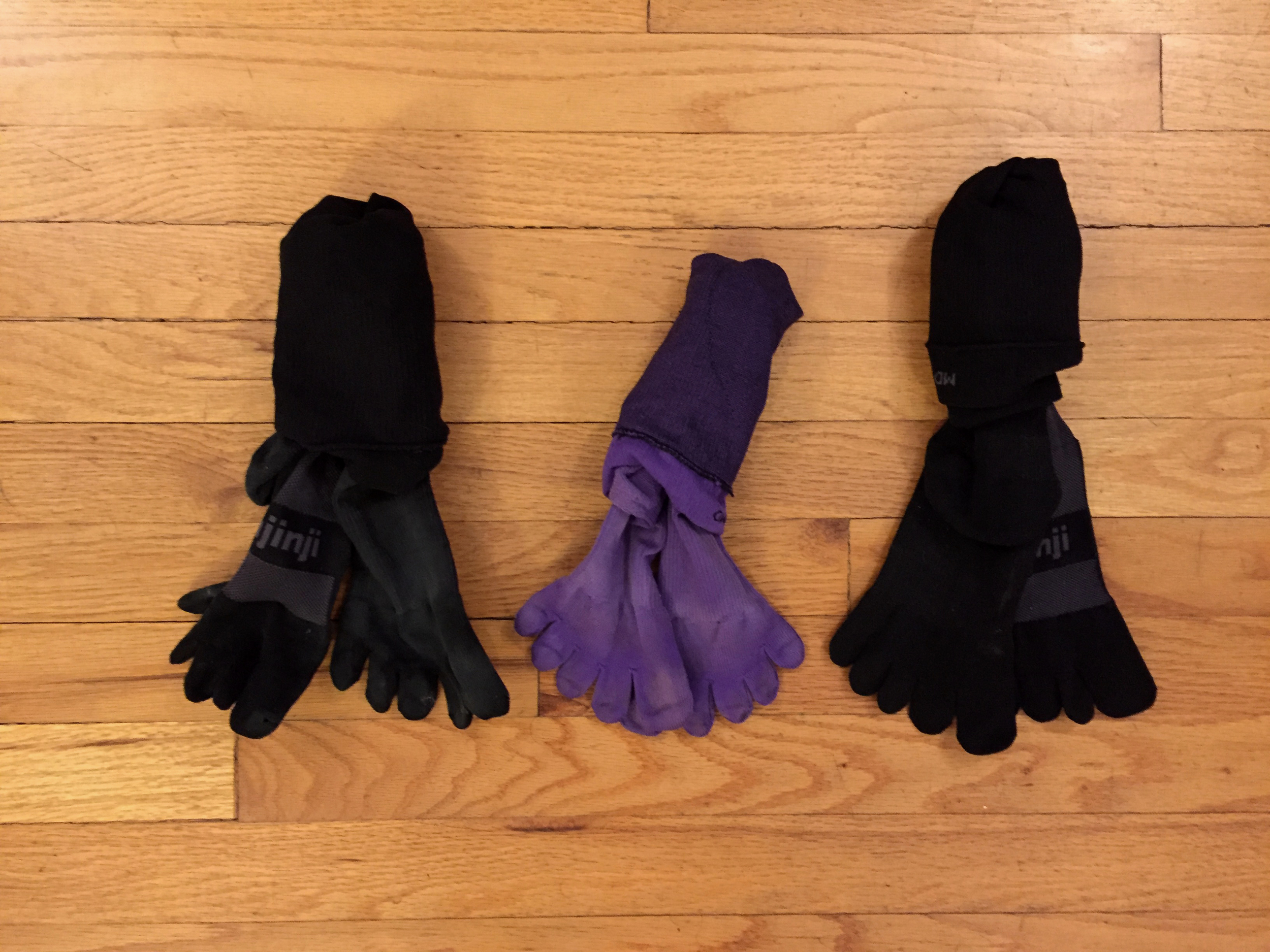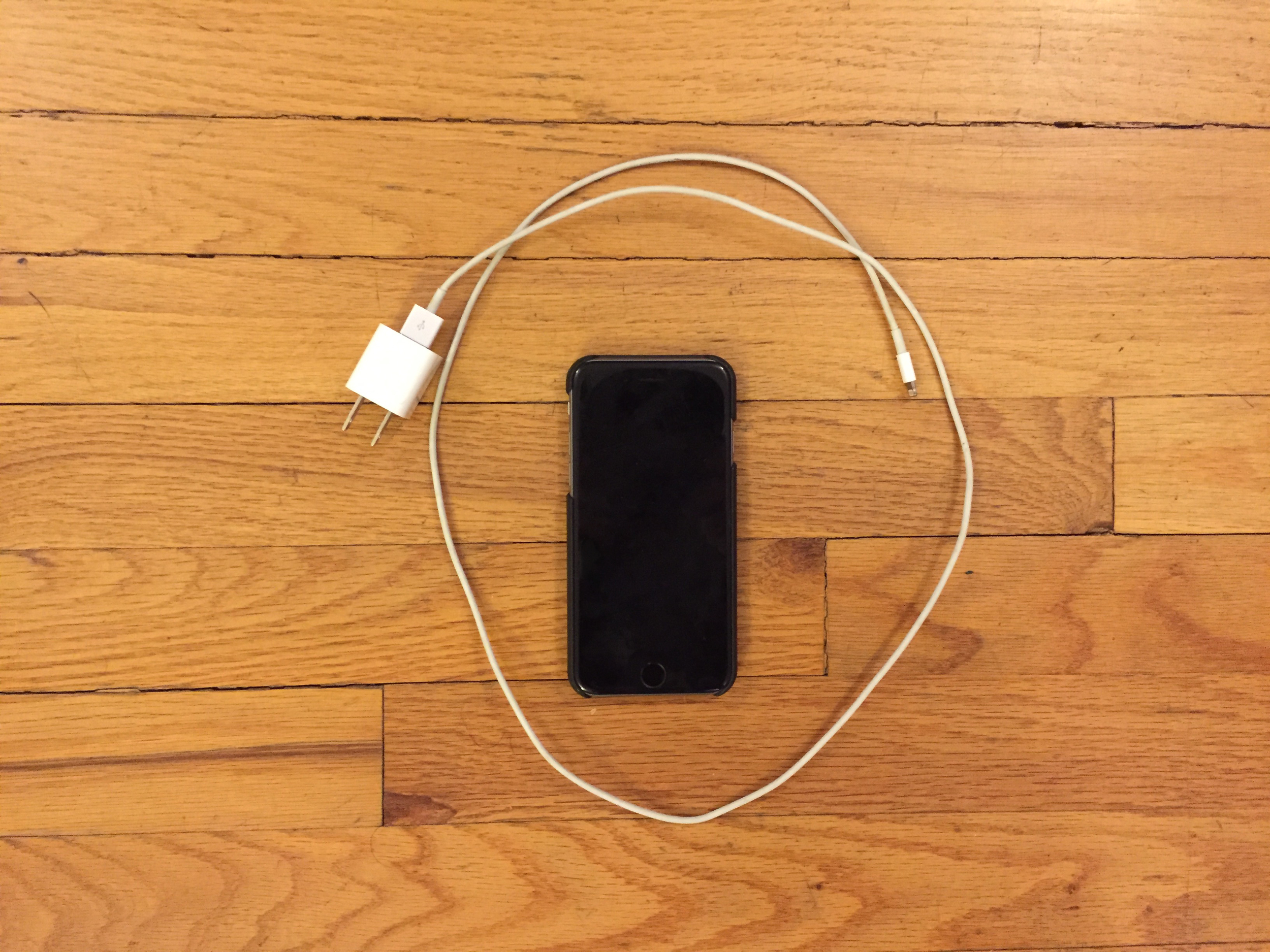 Hers
I'm not training for a race, but I do take a lot of supplements and I'm also a woman, so it took me about 3 months and 17 panic attacks to get to this photo. Total weight: 22.8 pounds.
And here's a breakdown, piece by piece-ish:
The Pack
Osprey Kyte 46. I know. SO TINY. But Andy said he would divorce me if I took a rolly bag.
Other Bags
REI Flashpack 18: This is my packable daypack. Totes tote bag: This is my packable beach bag. Leather messenger bag: This is my second carry-on.
Sophie's Choice
Toms. Ancient Greek sandals. Old Navy flip-flps. Saucony sneaks. This was so hard.
Toiletries
Eagle Creek toiletry bag + a million tiny little bottles. REI towel. REI washcloth. LeSportsac makeup/jewelry bag.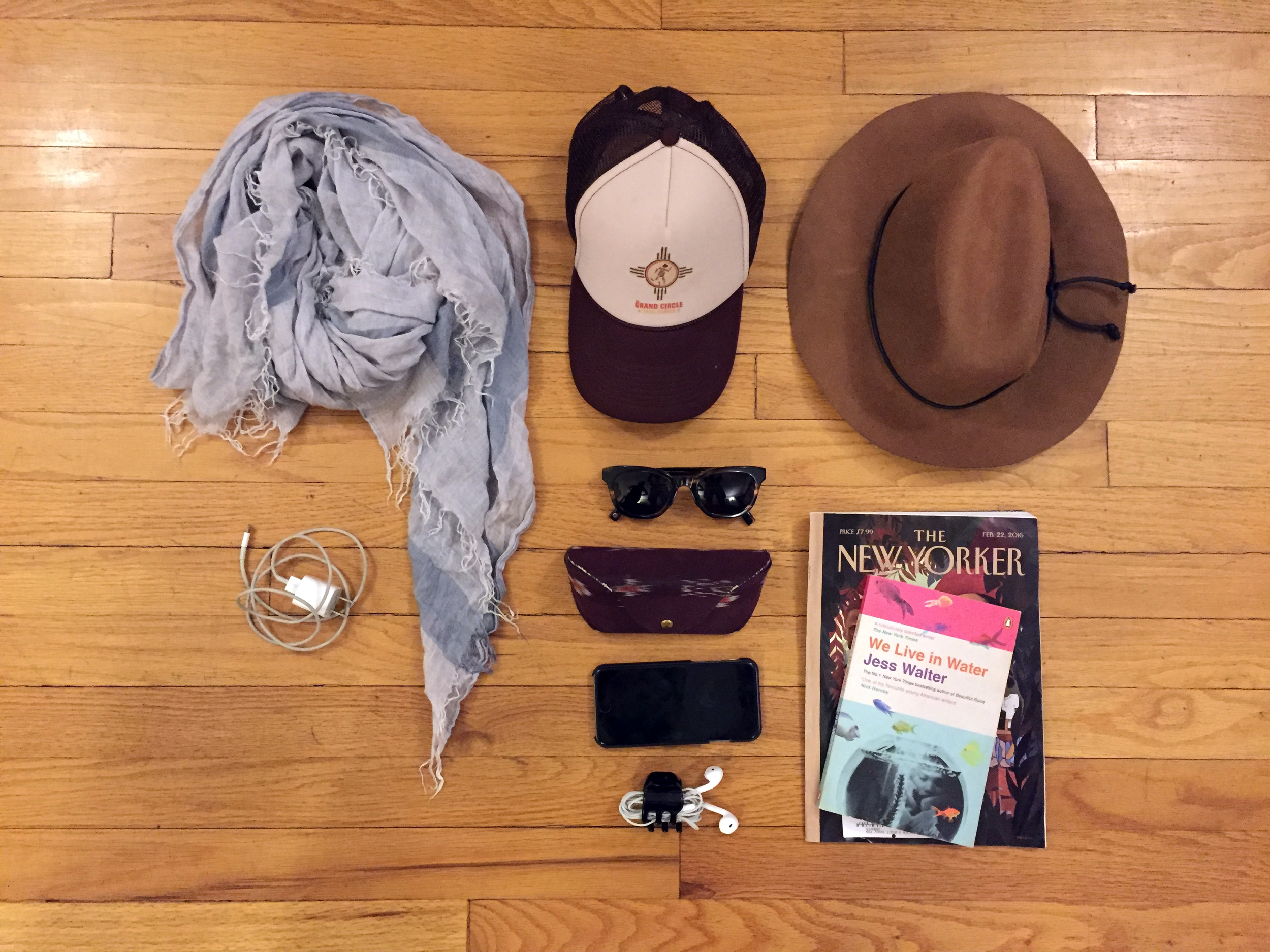 Accessories
Lightweight scarf from Club Monaco. Trucker hat from Andy. Felt hat from Target. iPhone + charger + headphones. Warby Parker shades. Madewell case. Analog reading material: No Kindle, I'm just gonna switch out books as I go.
My Closet
In addition to the plane outfit, I'm taking 10 shirts (4 tanks, 4 tees, 2 long-sleeve). 1 skirt. 3 shorts. 1 pair of leggings. 4 pairs of socks. 4 bras. 8 pairs of undies. 2 swimsuit bottoms and 1 swimsuit top.
Skymall Nerdery
Vapur Microfilter collapsible water bottle. Drain stopper and laundry rope. Travel bedsheet. Dorky money belt thing that I probably won't use. Even dorkier bra-snap money holder that my mom got me for Christmas.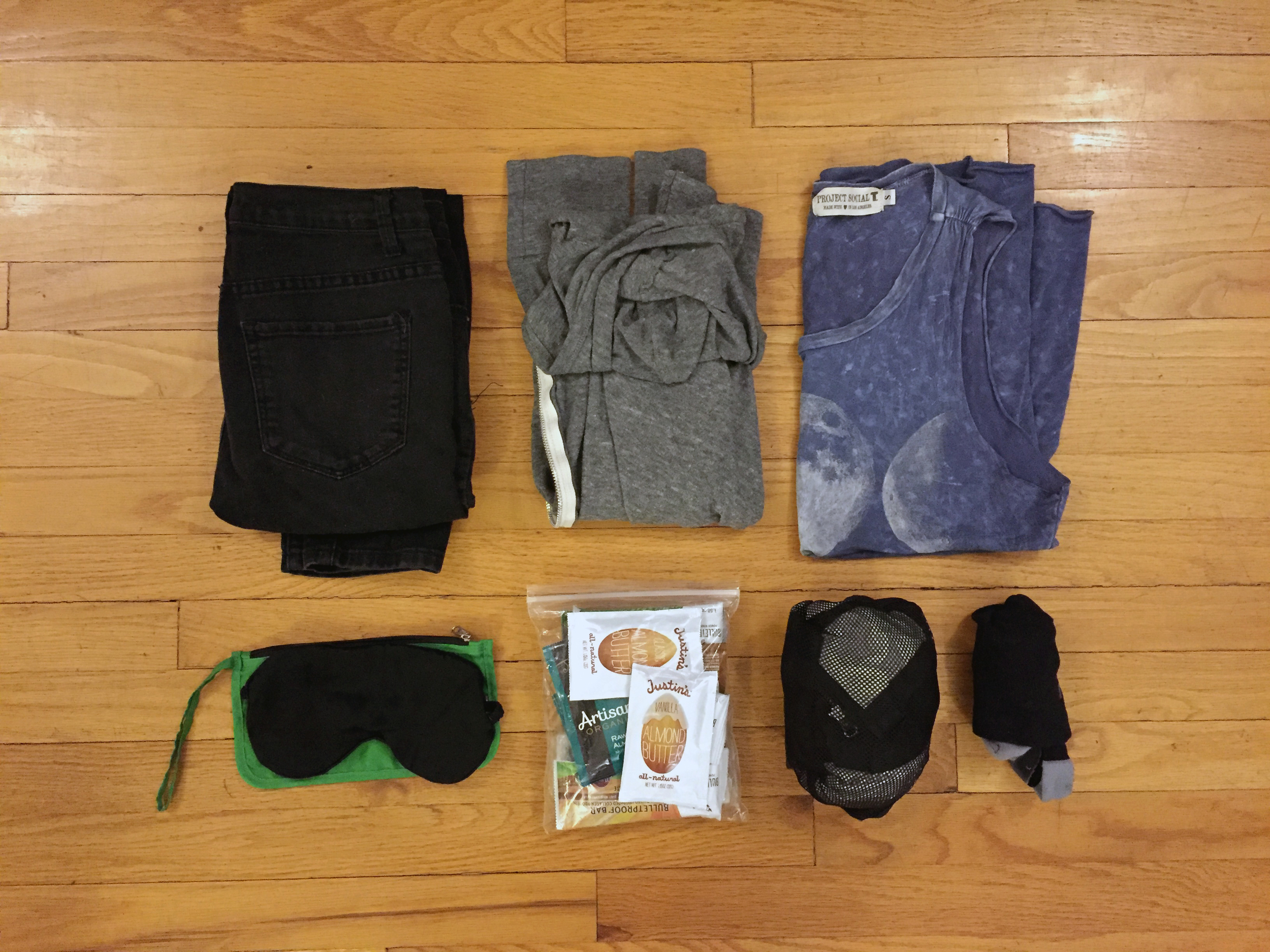 Plane Outift
Lightweight black jeans from Forever 21. Lightweight hoodie from Alternative. Lightweight cotton tank. Eye mask. Snack bag. Marmot rain jacket. Compression socks cuz I'm 80.